Darma – Sit Smart for a healthy body and mind

Darma is a smart cushion that monitors how you seat on the chair to improve your posture, but also monitors your stress and your sitting habits. Darma is meant to monitor your "inactivity" time when you sit, and coach you to improve posture, balance sitting time and reduce stress.
Darma is targeted at your posture and sitting habits, but its ability to monitor heart beat and stress can prove very valuable. Especially in the office, where things can get quite stressful. Darma provides all the data through an app which also gives you pointers on what to improve and how. Here is their campaign page: https://www.kickstarter.com/projects/junhao/darma-sit-smart-for-a-healthy-body-and-mind/  and here is their website: http://darma.co/

Treatments for Stress and Anxiety
Some of the campaigns above monitor the stress to help you manage it. Now let's review some treatments. One approach is to use technology to treat the stress, and the innovation comes from combining technologies or creating a better design which improves usability. Another approach seen in crowdfunding is going down the traditional path – using old and proven techniques and formulas to manage and treat stress. Here are a few campaigns of treatments –

1Hour Break – redefining how the world handles stress and anxiety

The 1Hour Break was a real success on Indiegogo. It got 511% funded in the original campaign, and offered a great natural way to relieve stress and anxiety. With an all-natural mix of herbs, it has a great potential.
The 1Hour Break oral spray focused on Kava – a strong anti-stress herb found in the South Pacific Islands. Kava has been used for centuries, and commonly served as tea. 1Hour Break Spray is taking the traditional peace offering and bringing it to the modern world.
The project was fully funded and currently running inDemand, so you can still get your hands on a discounted set of 1Hour Spray!
Here is the link to the campaign: https://www.indiegogo.com/projects/1hour-break-everyday-stress-anxiety-relief-spray/ and the link to their website: http://www.1hourbreak.com/

Migraine escape – Revolution in Migraine Management

While not addressing stress directly, migraines are sometimes triggered by stress. This campaign addressed migraine management, so if stress is your trigger – this would have helped a little bit of both. The campaign reached only 12% of its goal, but the idea seems legit so we may have not seen the end of Migraine Escape.
Migraine Escape was marketed from a very professional point of view, offering treatment protocols and professional guidance, trying a more traditional way than the technology path. From a patient / doctor point of view – this would have been great to have for migraines. Migraine escape was just not cool enough for crowdfunding.
Here is their campaign if you want to read more, and maybe see if it fits your migraines:  https://www.indiegogo.com/projects/migraine-escape-revolution-in-migraine-management/x/4964799

Personal Relaxation Pod: Beat stress in 3 minutes!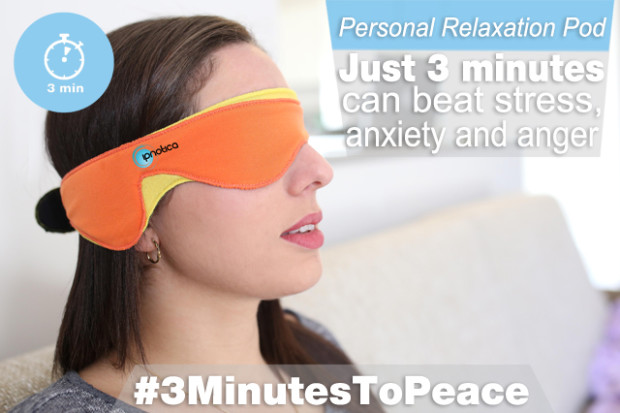 Using guided audio, color light therapy, aromatherapy and a cool app to control all of these the Personal Relaxation Pod offers a way to disconnect from the world and relax. The unique mask has integrated LED lights, high quality headphones, and an aromatherapy strip for different scents and mixtures.
Maybe you'd want to get one for yourself. If not for relaxing, then maybe for those office power naps to get your brain restarted. Here is the campaign's website – https://www.indiegogo.com/projects/personal-relaxation-pod-beat-stress-in-3-minutes#/story and you can check out their website as well – http://ipnotica-relaxation.com/

And last but least on this list – the Headoc

A unique device combining three technologies to treat stress, migraines and headaches. You can read more here: www.headoc.info – our own project which got fully funded, and will be launched soon! The Headoc is going through final planning stages, and the first production run is scheduled for the next few weeks!

Can Crowdfunding Bring Stress Solutions to the Masses?

In our opinion – definitely. The medical industry is very slow in adopting innovation, and crowdfunding offers a whole new way to bring inventions to the market. Some of the products that get funded would have never been produced if it weren't for the power of the crowd, rather than the funds of the big companies. Although some of the projects on this list have failed, we believe there is still a lot of inventions that haven't been introduced to the public.
Let's hope that we see more and more solutions for stress and anxiety, because they are becoming more common in our lives. There is not only a need for monitoring (which is included in all the wearables marketed today), but also a rising need for simple solutions. The everyday person needs a quick way to relieve stress, since a vacation isn't always in reach.