V1bes – Multiple bio-signal sensor for stress management, self-diagnostics and fun.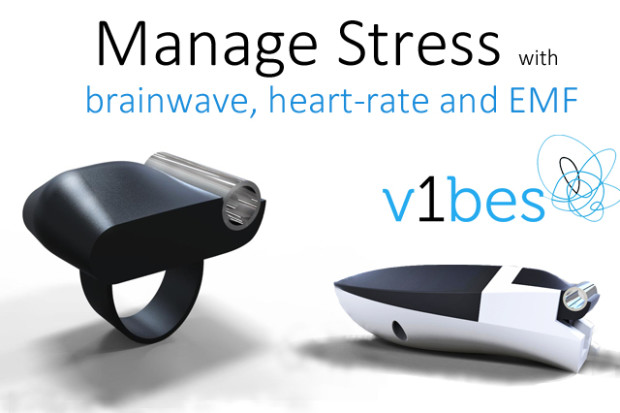 A semi funded product that received a lot of attention when first launched. The V1bes consists of a ring with sensors that monitors several parameters – heart rate, brainwaves and electromagnetic field absorption. The V1bes is meant to help you understand what causes stress, thus enabling you to manage it better.
The v1bes team has announced they were accepted to the GE Healthcare innovation village, and R&D is in progress. It will be interesting to see where this idea (which started as a simple stress meter) will head next.
Here is the link if you want to read more:  https://www.indiegogo.com/projects/v1bes-a-ring-for-self-diagnostics-against-stress/ And here's the link to their website if you want to stay updated: http://v1bes.com/

EMVIO – A Smart watch to measure and manage stress

What started out as a great promise with an awesome design launched in poor timing – both Apple and Pebble launched their watched on the same month, and while EMVIO got attention – it was just not enough (according to the project owners as stated on Kickstarter).
EMVIO was designed very nicely to act as a fashionable watch and a usable stress management device. The EMVIO included a pulse sensor, a touch sensor and an accelerometer to track your vitals and daily acitivty, providing you not only with analysis of the data but also live warnings on your stress level when they spike.
EMVIO comes with a nice looking app, which you can use to analyze and understand when and why you were stressed. Sadly, this project has been cancelled and the team went back to the drawing board. Maybe we haven't seen the last of EMVIO.
Here is their Kickstarter campaign: https://www.kickstarter.com/projects/993110774/emvio-the-first-watch-to-measure-and-manage-your-s and you can also visit their website to see if they have any news:  http://emvio.watch/

The WellBe – Goodbye Stress, Hello Calmness!

This Indiegogo campaign has reached its goal, as did Olive, so let's hope this project makes it to the finish line. At the time of writing this article, the WellBe is on 119%, so I guess they're on the right path. The WellBe was launched in partnership with "The Mentors Channel" (http://store.mentorschannel.com/), aiming to improve the well-being of people around the world.
The WellBe has a nice design, and it looks like a bracelet that would draw attention. The WellBe looks and acts a lot simpler than other bracelets, using only a heart rate monitor (and a smart algorithm to analyze it). However, as simple as it is, the upside of the WellBe is that it comes with an app that offers personalized stress reducing programs such as meditations and guided imagination.
The WellBe is currently a success, though its simplicity may make stress management a little less accurate. Here is the link to the campaign – https://www.indiegogo.com/projects/the-wellbe/